Surprise!!
Happy Tuesday everyone 🙂
In lieu of a new recipe today I thought it would be fun to keep this week goin' with a giveaway instead!
And a mighty fine one at that.
It's no secret around here how much I love this stuff…
And I don't think that I'm alone on that from the looks of the grocery store shelves 😉
In fact, would you believe that I have conversations at work about Chobani almost every.single.day – people's love for the stuff, the commercial, recipe ideas, you name it!
True story. And I love it.
Case in point:  last week I received a phone call from a previous coworker just to tell me that she is hooked on Chobani, that she loves it. Said she didn't want to "jump on the bandwagon" but once she tried it there was no going back.
It's a pretty easy "bandwagon" to jump on when something just tastes that.good. Right? 😀
So here's your chance to win some Cho of your very own…
And maybe you'll just have to jump on the "bandwagon" too… that is, if you haven't done so already!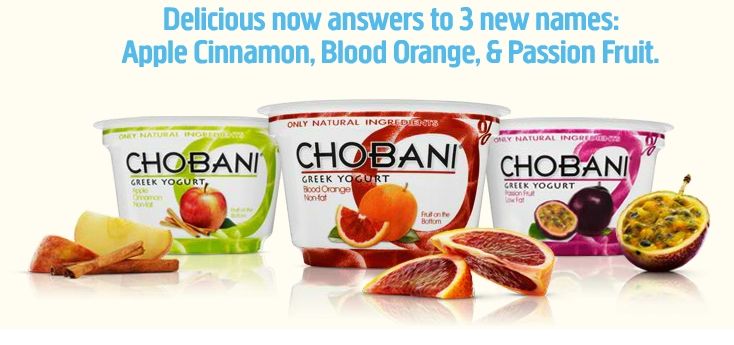 To enter to win some free apple cin, blood orange & passion fruit Cho of your very own: 
1. Leave a comment below telling me your favorite Chobani flavor.
2. Follow Cookinfanatic1 on twitter and tweet about this giveaway "Enter to try some @chobani of your very own over at @cookinfanatic1! http://cookinfanatic.com/2012/03/free-chobani/" – and leave a comment saying so below.
3. Like Cookinfanatic on Facebook and leave a comment saying so below.
I'll pick a winner at random on Sunday, March 18 and they'll receive their very own case of the coveted new Chobani flavors!
Good luck and enjoy 🙂